Together, let's build the solutions of tomorrow. That's what we do with our customers.
New IT solutions still requires heavy investment, but when installed, it provides extensive tangible benefits. Belgian integrator and service specialist NSI IT Software & Services SA offers to customers in its local region the opportunity to transform their IT cost into a decisive advantage for the growth of their business.

"The market has changed considerably. Now, IT Directors are key players in the company's strategy," underlines General Manager Alain Wattier. "IT is no longer seen as pure cost, but as a factor which brings huge added value and enables companies to develop their business. This has been a very positive evolution for us."

NSI's services are based on four main pillars. The IT infrastructure is focused on setting up and designing of efficient networks, allowing data to be safely backed up on external servers. Business Solutions unit, as Microsoft Gold Partner, helps customers to identify and install the most appropriate ERP system, including mobility and artificial intelligence requirements. The application development team uses a wide range of programming languages to create optimal and tailor-made solutions for its customers. NSI Professional Services team covers all of the customer's on-site needs providing all kinds of IT profiles.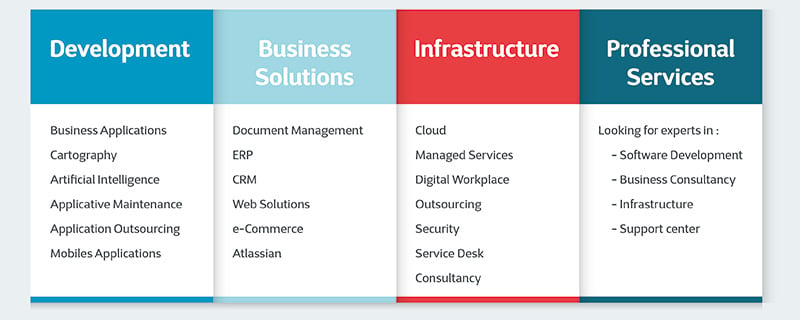 "Our portfolio of services is entirely focused on the needs from a single provider," says Alain Wattier. "We focus on the French-speaking regions of Belgium and Luxemburg, which has allowed us to develop a strong local understanding, allowing us to adapt our solutions accordingly. This closeness with our customer is really at the heart of our philosophy - That is our DNA. With 750 employees, we are not too big for the customer to feel lost, but we still have enough resources to always provide staff to manage projects and ensure the continuity of service. This important factor is often missing to small service providers".
"For nearly two years now, we have recruited more than 100 new employees every year and we intend to do the same in 2020. – not just IT people, but people who understand our customers businesses".
Founded 25 years ago, NSI has joined the Cegeka Group in 2008, and its customers benefit from synergies and resources of the group. With a 60-40% split between private sector and public sector, NSI works for clients in various industries sectors in Belgium, and in Luxemburg our customers belong mainly to the banking and finance sectors.

Over the past ten years, NSI's annual revenues have grown from 20 million EUR up to 85 million EUR through organic growth and through buyout of companies allowing NSI to diversify its services.

For three years now NSI's growth is significant. "We have a large number of projects in the pipeline; especially for the installation of new ERP systems; security being the other hot topic," confirms Mr. Wattier. "Working for public and private sectors as well as for different industry segments provides us a very solid foundation. The increase of the activities naturally requires a growth of the workforce and that's why NSI is constantly recruiting new profiles." says the CEO.

"Recruiting and retaining our staff is one of our priorities, and we are working with local universities and high schools to offer internships to young talent, many of whom join our teams after graduation. We also work with training centers that offer experienced people the opportunity to train for a new career."

With the market currently very strong, NSI will stick to these priorities in the future: "We intend to remain focused on our role of IT integrator," Mr. Wattier underlines.

"Artificial intelligence will be a key theme, along with other emerging technologies, which must, of course, be 100% tested, and their integration must provide guaranteed results. One of our 2020 priorities will also be to confirm and strengthen our presence on the Luxemburg market. Continuous growth is also on the agenda and if there was an opportunity to buy an IT company in the Charleroi region (Belgium) for example, we would be interested."


src. : https://www.european-business.com/nsi-it-software-services-sa/portrait/